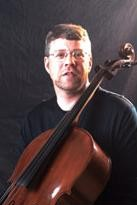 J. Cameron Law
J. Cameron Law received his Bachelor's of Music Degree with University Honors and Academic Distinction in Cello Performance from Colorado State University. He completed his Master's Degree in Cello Performance at the University of Michigan, where he was awarded a Music Fellowship and served as a Graduate Teaching Assistant. Mr. Law has performed as the Assistant Principal Cellist of the Fort Collins and Cheyenne Symphonies, and is currently the Principal Cellist of the Grand Junction Symphony.
He was the cellist with Trio de las Americas, formerly the Mesa State College Faculty Piano Trio, performed for six seasons with the Crested Butte Summer Music Festival, and was an adjunct cello instructor at Colorado Mesa University. His private cello students have completed music degrees at such prestigious schools as the Hart School of Music, Indiana University, and the Berklee School of Music.
Mr. Law has conducted the Grand Junction Symphony, the Colorado All-State String Orchestra, the New Mexico All-State Orchestra, the University of Wyoming's Festival of Strings, the Mesa State College Orchestra, the High Desert Light Opera Orchestra, the Colorado State University Rocky Mountain Summer Music Camp Orchestra, and the University of Colorado Summer Musicworks Orchestra. His orchestras at Grand Junction High School have performed five times at the Colorado Music Educators' Association annual Clinic and Conference, and they performed in 2009 at Alice Tully Hall in New York's Lincoln Center.
Additionally, Mr. Law serves as the Camp Director for the CASTA Middle School String Camp and is a Past President of the Colorado Chapter of the American String Teacher's Association.
In 1999 he was presented with the Grand Junction Chamber of Commerce Outstanding Educator Award, and in 2002 he was named the ASTA Colorado String Teacher of the Year and received the Sylvan Excellence in Education Award. He has worked as a clinician and adjudicator throughout Colorado, as well as in Utah, New Mexico, Wyoming, New York, and North Dakota.
Mr. Law has served on the Colorado All-State Orchestra Advisory Board and the Colorado High School Activities Association State Music Advisory Board, and he is the founding advisor for the Grand Junction High School Tri-M Chapter.
He has published several pieces for young string orchestras and is the String Editor for Grand Mesa Music, and his compositions and arrangements have been performed at the Midwest Conference in Chicago. Mr. Law is currently the Director of Orchestras at Grand Junction High School and West Middle School.