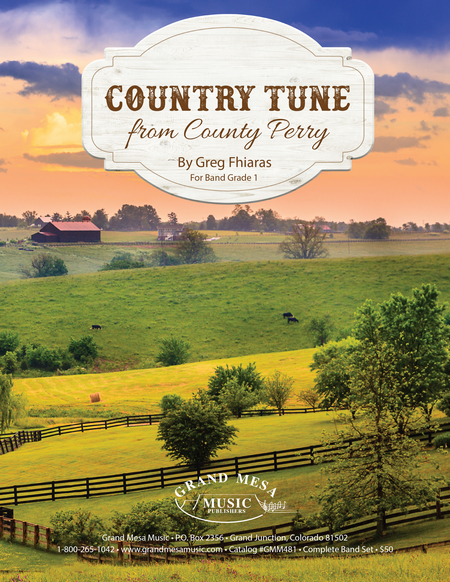 Concert Band
Country Tune from County Perry
Composed by
Take a ride in the country with this lively tune! A percussion solo gets our ride started, followed by a unison clarinet melody that leads us along this melodic road, picking up the flutes on the counter melody. The brass then enter as we roll into town and take their turn with the melody. Flowing along, the woodwinds continue with a contrasting legato section. Then the low brass takes over as we come across a farm, but watch out as we accelerate to get away from a threatening bull. This is perfect light concert or festival piece that your players and audience will love!.
County Perry is a rural South Mississippi county where composer Greg Fhiaras taught before retiring to write concert band music and marching band shows.
Listen ...
Download ...
Click the play button in the listen area to listen to this piece. If you want to download a copy to play off-line, just register and log-in.
Product Number: GMM481
Price: $ 50.00
Duration: 2:00
Grade: Grade 1
Instrumentation: Band
Extra Score Product Number: GMM481SC
Extra Score Price: $8.00