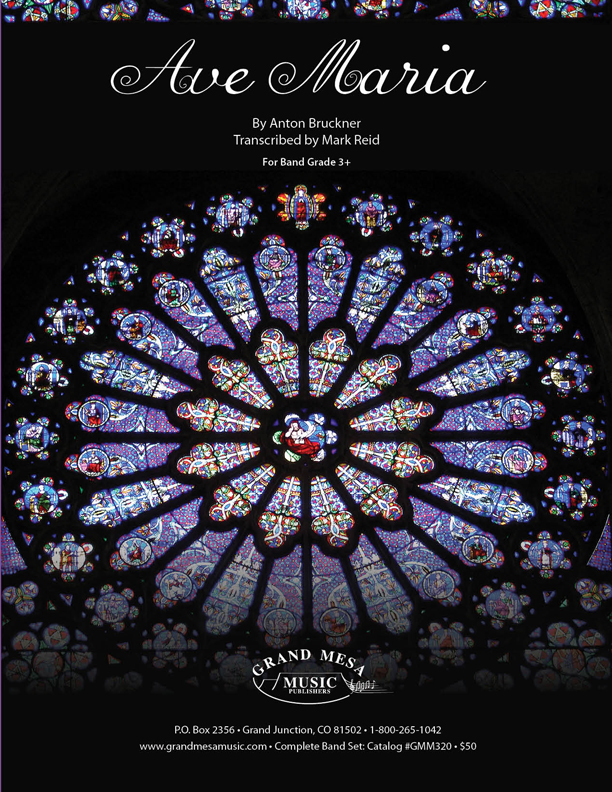 Concert Band
Ave Maria
Composed by
Anton Bruckner
COM_MUSICPUBLISHER_SONG_LABEL_TRANSCRIBER
Anton Bruckner (1824 - 1896) is a celebrated composer, organist, and teacher. While there are many setting of the sacred Ave Maria text, only Bruckner's 1861 composition captures and translates the powerful presence of the organ to the choral idiom. Given the tone colour potential in the modern wind ensemble, Bruckner's brilliant blend of Renaissance melodic lines with chromaticism and harmonic language of the Romantic era make this transcription an appropriate extension of Bruckner's musical tastes. It is reasonable, then, to imagine Bruckner's approval for this transcription for wind ensemble.
This transcription was commissioned by Douglas Macaulay and Susan Magnan, Founders of the Con Brio Whistler Music Festival. It is dedicated to Elizabeth H. Rickman, a passionate, committed, and caring music educator who passed away long before the full effect of her excellent teaching were realized. Her belief in student leadership and pursuit of musical excellence are revered by colleagues and students. The premiere performance was given on April 29th, 2012 at the Con Brio Whistler Music Festival by more than 1400 student-musicians performing in the festival's Mass Band.
Listen ...
Download ...
Click the play button in the listen area to listen to this piece. If you want to download a copy to play off-line, just register and log-in.
Product Number: GMM320
Price: $ 50.00
Duration: 3:50
Grade: Grade 3+
Instrumentation: Band
Extra Score Product Number: GMM320SC
Extra Score Price: $8.00